High-speed processing of filler-containing resins by suppressing with less damage to conductors
Fine surface processing by wet blasting
Physical processing, which allows the filler-containing resin layer on the build-up substrate surface to be processed uniformly at high speed.
Process Objective
Surface is exposed by removing near the surface of the substrate on which electric parts are embedded.

Grinding surface of the resin on the substrate and only circuits are left on it.

Problems of conventional processing method
Dry Etching (Plasma)

Etching of the filler-contained resin is difficult.
It takes longer time to process over ten microns.

Laser

It takes longer time to process patterning to large area.
Desmear is required.

Machining

Knife is damaged immediately due to the filler.
It even over-processes parts and conductors which are necessary.
Process image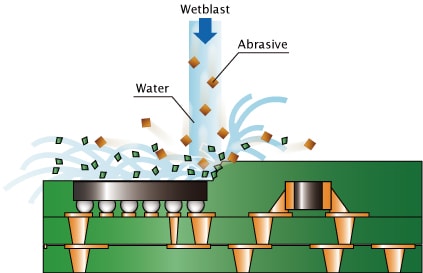 The Copper Wiring's Exposure According to Wet-blast
Feature
Entire surface half-etching for the filler-contained resin
Process selection of the resin to reduce Copper etching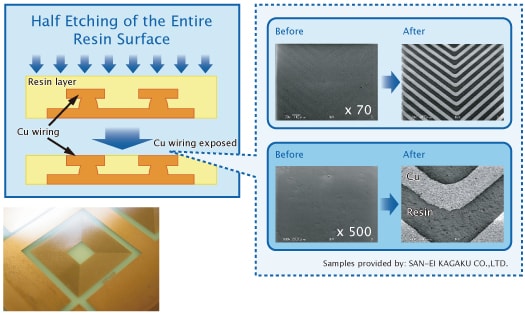 Processing of materials under court cases
Feature
Suppressing damages to conductors by using resin particles as well as micro-particles is applicable.
Processing Condition
| | |
| --- | --- |
| Using particle | Alumina A#2000 |
| Air pressure | 0.25MPa |
| Processing Speed | 20mm/s |
| Projecting Angle | 90° |
| Processing number of times | 4-10 passes |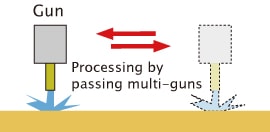 Processing rate control by abrasive type and air pressure is applicable.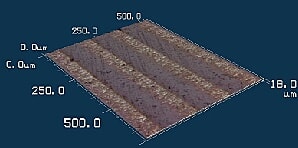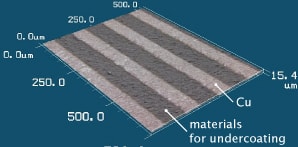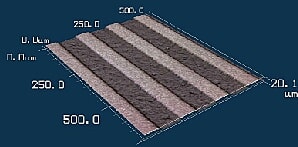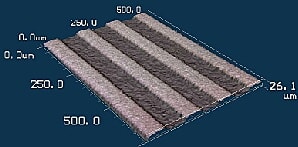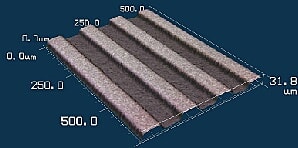 Cases of Formation for Embedded Capacitor
Feature
Patterning that assumed Copper as a mask
High accuracy by anisotropic processing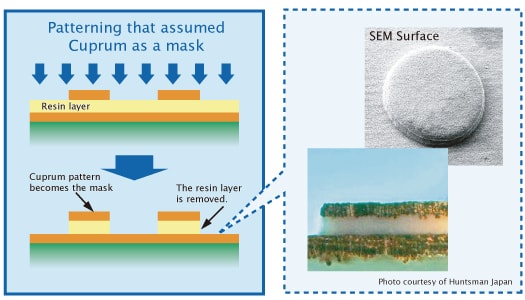 Related pages