Glass Bead Peening cell / BPM-120A
BPM-120A
Glass Bead Peening cell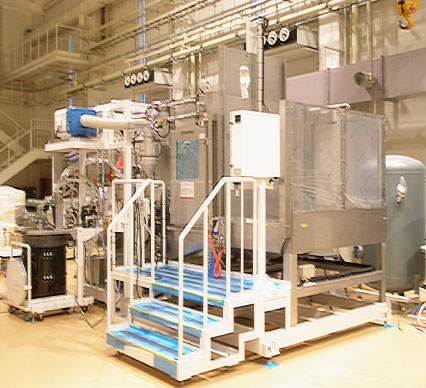 Automatic surface treatment cell for peening of aircraft turbine blades
An automatic surface treatment cell for peening aviation engine parts. The entire surface treatment is done on the turn-table, by moving the work piece into the blasting room using a trolley.
Feature
It is applicable to let a large size work piece into the chamber and take it out by a trolley type turn-table.
Teaching with 6-axies robot arm can be applicable.
Automatic work piece handling by a turn-table can be applicable.
Spec
Size
3750(W)×2200(D)×3750(H)mm
(cell)
Work size
φ900×H600mm and below
Basic weight : 100kg and below
Gun
3/8 inch flare nozzle Peening gun x1
Power supply
AC200V, 50/60Hz, 3 phases
Power consumption
About 9kW (Total rated apparent power of all the equipment)
Air supply pressure
0.6MPa-0.8MPa
Air consumption
3.0m3/min (NTP at 0.45 MPa of preset blast air pressure)
Configuration
Ceiling Shower, Robot is driven by teaching, Trolley type turn-table
Related pages