What is Wetblasting?
​This section introduces the principle of wet blasting, a technique to project a mixture of water and abrasive for surface processing, and related basic information.


What is wet blasting?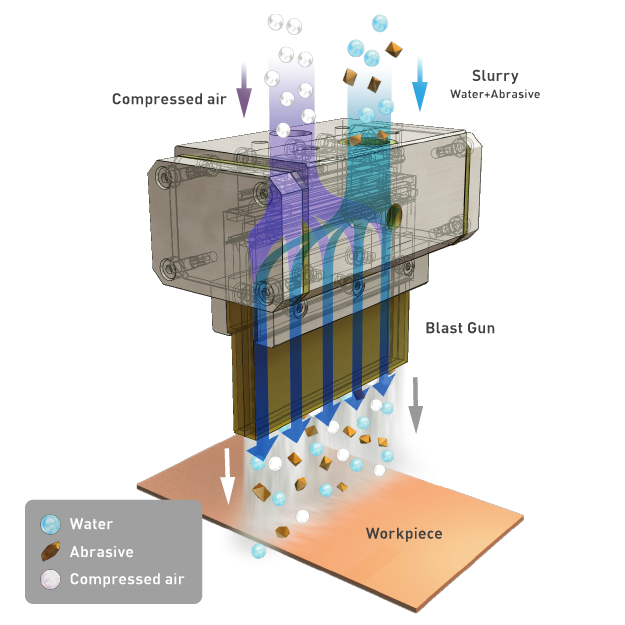 Surface treatment using water, abrasive and compressed air.
Wetblast is a technology involving spraying a mixture of water and abrasives at a high speed with compressed air in order to clean, process and improve materials such as metals, plastic and ceramics.
The wet treatment process enables the usage of small abrasives at the m level which is optimal for fine processing.


Wet-blast

projection with the

"wide gun" (patented)
Features of Wet blast
On a big scale, there are five characteristics for wet-blasting.
1.
There is a wide selection range for the size, shape and material quality of particles.
Since water carries the particle to the target, we can use more minute particles compared to dry-blasting.
2.
Excellent performance of fluidic controllability
Since the slurry mixed with water and particles are fluid controllable, it can be processed with high efficiency.
3.
There are few residual errors of particles.
Since water washes out the particles after processing, there is hardly any left-overs.
4.
Thinner material is applicable.
Since process pressure is low, it is possible to process thinner material without breaking it.
5.
Secondary processing using mixture of chemicals is applicable.
Processing with chemicals and blasting can be done at once since it is possible to dissolve chemicals into water.
The Role of Each Element
Wet-blasting is composed of three elements namely, abrasives, liquid and gas.
Abrasive
Elements for processing (grinding, padding and cleaning) mainly.
Liquid
Main elements for carrying abrasives.
Gas
Main elements for accelerating abrasives and liquid
The difference between wet blasting and others
1. Water jet technology
This is the technology processed by highly compressed water jetted out from a narrow nozzle. Pressure is quite high (maximum 2000 kg/cm2 at 200MPa) and the water jetted out from the nozzle is as stiff as a rod like an iron. It is used for cutting materials or removing surface. Compared with wet-blasting, after-process treatment is handy as water is only used. However, it has too much power and is weak in processing for larger areas. Therefore it rarely overlaps applications.
2. Dry blast technology
For wet-blasting without the usage of liquids, the spraying is done only with particles. Historically, this method has been in use for a long time, and its market size is over one hundred times. Wet-blasting technology has a lot of experience in various industries. The characteristics of wet-blasting technology meets the recent industrial needs and requirements, such as improvement of operation environment (i.e., no dust exhaust), use of very small particles, and cleaning while operating at the same time.
3. Scrub jet technology
This is the technology processed by wet-blasting without using compressed air. Processing is done by spraying slurry made from a mixture of particles and liquids from a nozzle with pump pressure. Technologically, it is more simple compared to wet-blasting and is also low in cost. However, since the spraying speed is slow, the usage of small particles makes the power weak.
Applications
Our unique surface treatment system using wet-blasting followed by Phosphate conversion coating processing continuously. First, we remove the oil, rust and foreign objects stuck on to the metal fitting surface, then we rinse it completely. As activated surface after cleaning is covered by water film and is carried into the Phosphate tank, high adhesive and rust-proof precision Phosphate layer is generated on the surface within the blink of an eye. As a result, a more detailed film can be made on the surface, and the quality will be stable. Since there is no usage of chemicals or solvents, the line will be on a short-run and the processing time can be reduced. Also, non-usage of chemicals can contribute to global environment, since there is no Ozone depleting substances which are specified in the Montreal Protocol and Kyoto Protocol. As of today, it is utilized for bonding pre-treatment of brakes or anti-vibration rubber metal fittings used for engine mount.
Using lubricants in succession after wet-blasting is our own system of surface processing. The first step is to clean oil and foreign objects, then the second step is to remove oxidized scales by applying wet-blasting on the metallic surface before forging. The surface will be fully-cleaned and be of high-wettability for applying lubricants, so the lubricant be immediately applied. As a result, the number of processes is largely reduced compared with conventional process and, it becomes an integrated process which is higher throughput and spatial usability. Also cost reduction as well as environmentally friendly process can be achieved at the same time by reducing both the usage of chemicals and amount of waste waters. Those reductions can be made by replacing firstly degreasing-etching process with wet-blasting process and secondly replacing Phosphate-metal soap process with solid lubricants coating process. It is used for cold forging pre-treatment for undercarriages of automobiles parts.
PFE Treatment
Micromachining the surface at Nano-level without using chemicals is our own system of surface processing. Precision roughening to the whole surface uniformly can be achieved by both using a special gun which can sprays slurry uniformly to the entire processed width and utilizing the characteristic of wet-blasting that can project micro-particles in few-micron size. It becomes optimized surface conditions for plating and adhesion as the roughened surface is perfectly cleaned and has uniform micro-roughness. Slurry is sprayed by the special gun and is processed as loose abrasives, and therefore, it does not give unnecessary pressure onto the work piece and can process even 10um thick films or foils without tearing them. By controlling the conditions such as, air pressure size, projection time, the amount of processing can be controlled. This will make a suitable surface with great repeatability. It is used for the improvement of wettability of underfills, gold-plating and processing filler-containing resin.
Medibright = Media + Bright

This is one way of finishing metal surfaces. It is our own system of surface processing which differs from usual surface finishing, such as hair-line and mirror finishing, and satin finishing. Various surface finishes from dully bright surface finish to glossy half-bright surface can be applicable by using the characteristic of wet-blasting which can project micro-particles, by using a special gun which can project slurry (mixed liquid of abrasives and water) uniformly, and the combination of abrasive conditions such as material type, shape and size. It is equivalent to all sorts of metallic material such as iron, copper, stainless steel, aluminum etc. and treatment to complex shapes is applicable. Also, finishing, cleaning oil and foreign objects, removing rust, removing welding by burning can be done at the same time. Today it is used for surface finish for several purposes such as the main frame for digital devices like digital cameras, engine body for automobile/bike and even housing materials.