Improvement of the underfill wettability and bleeding prevention - Substrate
High density and performance supported by the surface quality improvement technology
Wet blasting is used to finely roughen the surface of a flip chip package substrate, which can reduce the size of the IC package compared to wire bonding, to enhance filling performance of the underfill (liquid curable resin for protecting the gold wires of IC chips).
Issues
There is a time dependence on the surface improvement effectiveness
= Difficulty of controlling wettability
Due to poor replenishment and fluidity performance of underfills, wet does not spread over well. Or bleeding out occurs.

Process image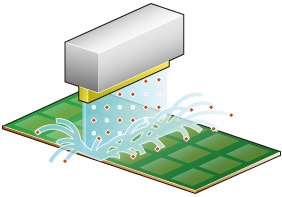 Cleaning and removal of foreign objects on the SR surface.
Improve wettability by expanding the surface area.
Bleed prevention by Pinning.
Related pages